Page 64 - 2019 Add Some Class Classroom Furniture & Technology Catalog
P. 64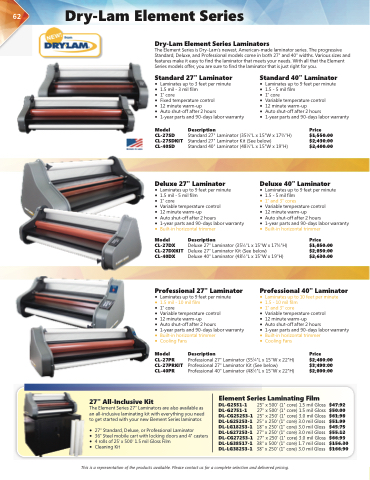 62
4-Station Face-to-Face
ANG1725
Sold Separately
2-Station Face-to-Face ANG1772
Technology Tables
One-Sided Single Station
ANG1771
Allow children an opportunity to bene t from technology in a playful, supportive environment with our Technology Table. The tablet opening is manufactured to  t select iPad and Kindle Fire devices. The slanted top holds tablets at just the right angle from beneath the surface in lockable compartments. Headphone storage is provided as well as holes to allow for use of headphones while tablet is in use. Technology Tables are constructed of 11-ply birch veneer and have adjustable legs allowing to adjust table height from 18"H to 26"H in 1" increments. Minor assem- bly is required. Optional casters are sold separately.
ANG1771
ANG1774 ANG1772 ANG1725 ANG7454
One Sided Single Station. 19"W x 193⁄4"D
2-Station Double Wide. 32"W x 21"D 2-Station Face-to-Face. 19"W x 30"D 4-Station Face-to-Face. 32"W x 30"D Caster Set
$434.56
$534.46 $558.76 $707.26 $110.57
Deluxe Mobile Technology Stand
Connectivity, versatility, and portability come together with the Mobile Technology Stand, allowing you to position yourself as needed in any space. Pairs perfectly with interactive white boards. CPU stored securely behind lockable doors. Features a pull out keyboard tray with swing arm for mouse, an adjustable shelf, and cord management ports. Tub not included. Heavy- duty, locking casters for mobility. Limited lifetime warranty. 24"W x 251⁄2"W x 39"H. Weight 97 lbs.
JON1084JC $587.50
Computer Lab Tables
These 24" deep tables provide ample work space for a keyboard, mouse, and a  at panel monitor. The Dual Table features a central, lockable CPU station, which is large enough to securely store two, 7" wide computers and provides separation and privacy between busy students! The Single Table features an ADA compliant seating area and a side mounted CPU that can be mounted on either left or right side. Heavy-duty, locking casters. 29"H x 24"D.
JON3344JC051 75"W Dual Computer Lab Table. Wt. 120 lbs.
$672.50 JON3348JC051 501⁄2"W Single
Computer Lab Table. Wt. 85 lbs.
$528.00
75"W Dual Computer Lab Table JON3344JC051
501⁄2"W Single Computer Lab Table JON3348JC051
This is a representation of the products available. Please contact us for a complete selection and delivered pricing.