Page 35 - 2019 Add Some Class Classroom Furniture & Technology Catalog
P. 35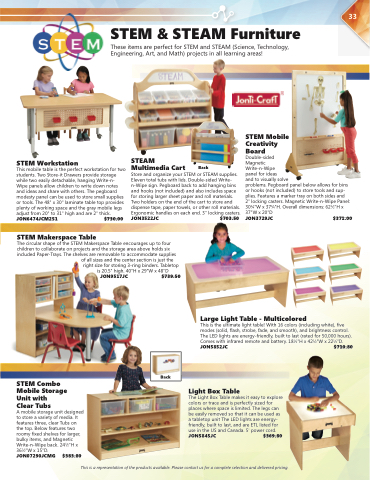 33
3D Printer Cart
As schools begin to explore the exciting capabilities of 3D Printing, the need to properly store the required tools and materials increases. The 3D Printer Cart allows printing equipment to be shared around the school easily and keeps everything that you need close at hand.
Base 3D Printer Cart
• Accommodates 3D printers with a footprint of up to 24"W x 261⁄2"D • 4 open tubs and 1 really big tub
• 4" casters, all locking
• 6 outlet power strip
• Adjustable spool holder (holds maximum of 4 spools) • Sliding laptop shelf  ts laptops up to 17"
• Magnets for attaching accessories to frame CEPTD5000
Premium 3D Printer Cart
All base model features and also includes:
• Base Tech TubTM (TEC57) with 2 open tubs and 1 really big tub CEPTD5001
$557.55
$652.05
Dewey the Document Camera Stand
Improved with a microscope and smartphone compatibility Turn your devices, including smartphones, into a document camera or a microscope by utilizing the camera app. With the addition of a mi- croscope, Dewey adds even more value to the classroom and enables students to get up-close and explore their studies.
Key Features
• Spring loaded clamps hold all versions of iPad® with a camera and various smartphones with or without cases (excludes 12.9" iPad Pro)
• Microscope feature with 5x or 10x magni cation and LED light (DCS6 only)
• Height adjustable
• 90° rotating mount that swivels and tilts, keeping the device secure • Mounting holes on the base for securing Dewey to a surface
CEPDCS6
CEPDCS5
Dewey the Document Camera Stand with microscope and LED light
Dewey the Document Camera Stand only
$102.90
$91.35
STEM Maker Station
Schools everywhere are putting more and more emphasis on learning through building and hands-on experiences. The STEM Maker Station allows classrooms to store all of their essential maker materials in one secure place and share a unit between classrooms.
Base STEM Maker Station
• Cardboard or material storage rack • Tape/ribbon/string dispenser rack
• Coroplast overhead sign and display • Hooks for hanging accessories/tools • Large bottom shelf
• 4 small tubs, 4 open tubs, 4 tiny tubs
• 4" casters, 2 with brakes and pinch point covers CEPSTEM102
Premium STEM Maker Station
$621.60
All base model features and also includes:
• Whiteboard for collaborative brainstorming and project planning
• Pegboard for tool storage
• Base Tech TubTM (TEC57) for locking up specialized equipment and tools • 4 small tubs, 4 open tubs, 4 tiny tubs
CEPSTEM100 $764.40
This is a representation of the products available. Please contact us for a complete selection and delivered pricing.